My NEW horse!!!! As in, legally mine!!
Unfortunately I don't have any pictures at this point in time as he (or she) isn't even born yet! Actually... isn't even conceived yet if you want to get technical. The long and short of it is, I'm purchasing a foal in utero to be my new Eventing prospect. If all goes as planned, it will be an upper level horse!

I was thinking originally I'd wait until the mare was actually BRED, but as the news got spilled elsewhere online, I figured, aaaahh what the heck, I'll post it here as well. :)

Momma is a lovely Dutch Warmblood mare, standing 16 1/2hh high, is wide as a tank (which is in part to being a brood mare, but still, doesn't bode well for baby fitting into my jumping saddle, oh my...), and has LOTS of GO! She also has done very in the hunters and ammy jumpers.
 
Mare
 Daddy is a Holsteiner, 16.3hh tall, competing Grand Prix show jumping at the moment, and is that beautiful blood red bay color I just loooooove. He's also a nice n tight jumper and has a very forward way of going.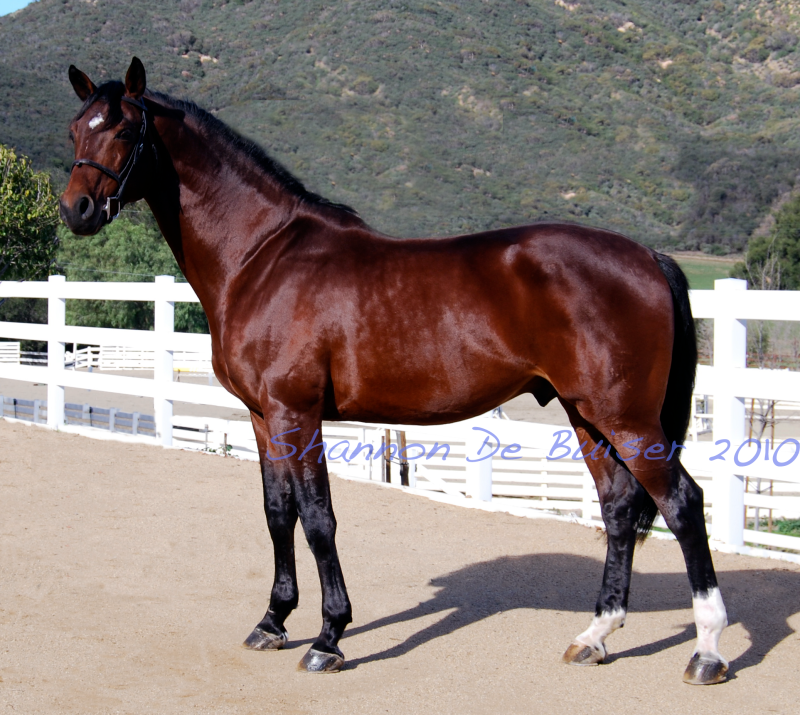 Stallion
 This baby will be registered as a Dutch Warmblood, and considering how much thoroughbred blood it'll have, should be an excellent Upper Level Eventing prospect!!! I am SOOO excited!! :D To say I'm impaitent would be an understatement. We missed the mare's heat this month, so mid April she should be bred *crosses fingers* I'm counting the days until she comes back into heat so she can be covered let alone until she actually foals in a year, gaaaah I'm never gonna last that long!
On the bright side, it sounds like I won't be without a ride at least for awhile. In addition to having Callie to ride for a few months, another boarder at my barn has said I'm more than welcome to ride her mare, a 21 year old TB mare who is actually rather skilled in dressage. She's horribly out of shape and pretty stiff, but could be a fun summer project. In exchange for getting to ride her I'll give the owner a few lessons here and there.
Well, I think that's it for now, time to start a countdown until baby is here. And time to start thinking of names. They gotta start with an H... hmmm
And one more picture of Daddy, cuz I think he's a hunk ;)