So, I've just discovered this morning that Doug Payne has a blog, hurray for getting to stalk more upper level eventers!! I was reading his most recent entry and had a fond giggle of remembrance when I saw his picture of collective marks (though, they aren't anything to sneeze at, a 10 for a rider is pretty damn impressive!).

While I've never gotten those kind of marks at a real dressage/eventing/combined test show of any kind, schooling or not, (normally end up with 8s and 7s) I have gotten those kinds of marks before.

I do, or well, have done Civil War Cavalry Reenacting. It's a ton of fun, and I've been a history buff since I was a little girl (my parents had to stop me from watching the civil war movie Gettysburg every day because they were worried about their little one watching so much violence), especially in regards to the Civil War. So I do reenacting to get to "relive" the past since, well, time travel hasn't been invented yet. It's an incredibly rewarding experience, especially when my regiment stands to horse as the color guard for the Memorial Day service at the cemetary at a veteran's center where many of the soldiers we portray are burried. It's an undescribable feeling.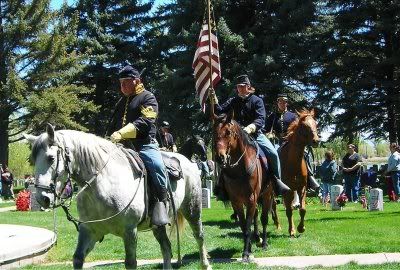 I'm on the far right, the chestnut horse

Aaaanywho, now that's I'm getting all emotional about my hobby... as part of being in the Cavalry we hold mounted competitions that test horsemanship and skill at arms. It's a TON of fun. There are different phases, military horsemanship (aka dressage), mounted shooting, mounted saber targets, platoon and company drill. It's rough, it's dirty, it's a lot of action and loud noises. PERFECT place to desensitive an event horse! (I tell ya what, after riding my event horse at cavalry competitions, we'd go to a real USEA event and he'd be falling asleep the entire time LOL).
The first Cavalry Competition I participated in, I kicked everyone's butt in dressa... err, military horsemanship. Becuase, I was the only one who actually knew how to ride a dressage test... not to mention how to do a rising/posting trot! I ended up with almost all 9s and 10s across the test! Best score I've ever received, ever! Best collective marks ever too, HA!
Needless to say, I landed the job as Company instructor, had one guy come up to me after and go "What the hell does a rising trot mean? Stand in my stirrups?" Me: "sorta..." I'm pleased to say that guy, our bugler, can do a very nice posting trot now. A few years later after that date he actually BEAT ME by 1 point in military horsemanship at the National Cavalry Competition... something he constantly reminds me of every time I see him.
Well, I gotta spend some time working on chemistry homework inbetween calls at work instead of this >.< but that was fun to write about! I miss the reenacting, don't get to do much of it since I'm in school, and especially since I'm currently without a horse! Speaking of which... we missed the mare's cycle this month, boo, so hopefully she'll get bred here in a couple of weeks when she comes back into heat. *crosses fingers*