Poking around on new (to me) blogs and found THIS!!

I've got a few hours still to get mine in, so why not!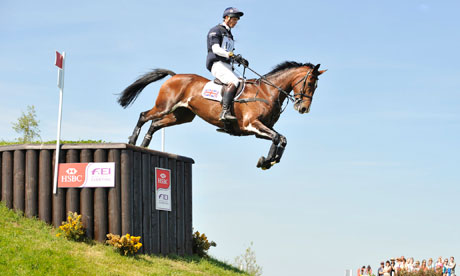 Gonna channel my inner Fox-Pitt....
1) Compete in and complete a CCI*
Ever since I first learned of the wonders of a sport called Three Day Eventing, and especially since I first got to watch CCI competitors gallop cross country at the Colorado Horse Park I have wanted to compete at the CCI level. I have the horse now that has the talent and potential to easily go that far, now it's just a matter of time (and $$$$). I have a plan to get there, now I just need to make it happen. Oh, and I want to finish with a number, not a letter! Easy enough, right?
2. Go to ROLEX
Not as a rider though! Some day I will take an entire week off and head to the Kentucky Horse Park to lap up as much greatness as I can, maybe go on a coursewalk (or two), hit the trade fair, and cheer on the stadium jumping. I debated over this or the Olympics, but this won because Rolex is, well, Rolex. Plus the KHP is just an amazing place, I've been lucky enough to compete there for Pony Club, but to watch the best riders in the world take on a four star course? Yus plz
Mint julep anyone?
3. And last but not least: The Kentucky Derby
Ever since I first watched Silver Charm gallop to victory I've wanted to go. On a road trip to the east coast my family took in April one year we got to stop by Churchill Downs for a brief tour right before they closed (we guessed the time zones wrong so didn't get time to mosey around the museum, boo). I want to get a pretty dress, a big fancy hat, and study my post preps and hope I pick the winner!
Cheers!
Emily